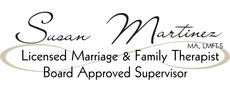 For Couples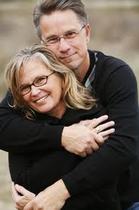 Couples counseling involves a customized couples assessment and counseling interventions to identify and improve strength and growth areas in the relationship. This assessment and counseling program meets the diverse needs of clients and is customized for you. It is suitable for both marriage counseling and pre-marital counseling. Based on the assessment, you will receive counseling sessions in which you discuss and understand these strength and growth areas as you are taught proven relationship skills.

This approach helps couples:

Explore strength & growth areas
Strengthen communication skills
Identify & manage major stressors
Resolve conflict
Develop a more balanced relationship

Explore family of origin issues
Enhance intimacy
Establish personal, couple, and family goals
Understand & appreciate personality differences
Foster & strengthen a secure attachment bond
In true dialogue, both sides are willing to change.― Thích Nhất Hạnh
Susan Martinez, MA, LMFT-S
​609 Cheek-Sparger Rd. Suite 104 Colleyville, TX 76034
Serving the DFW mid-cities area: Colleyville, Southlake, Grapevine, Hurst, Euless, Bedford, Keller. ​